Steve McQueen
(March 24, 1930 – November 7, 1980)
The Coolest Man on Two Wheels
Even years after his death, Steve McQueen remains an icon of cool.
Nowhere are his followers more ardent than among car, motorcycle and racing enthusiasts.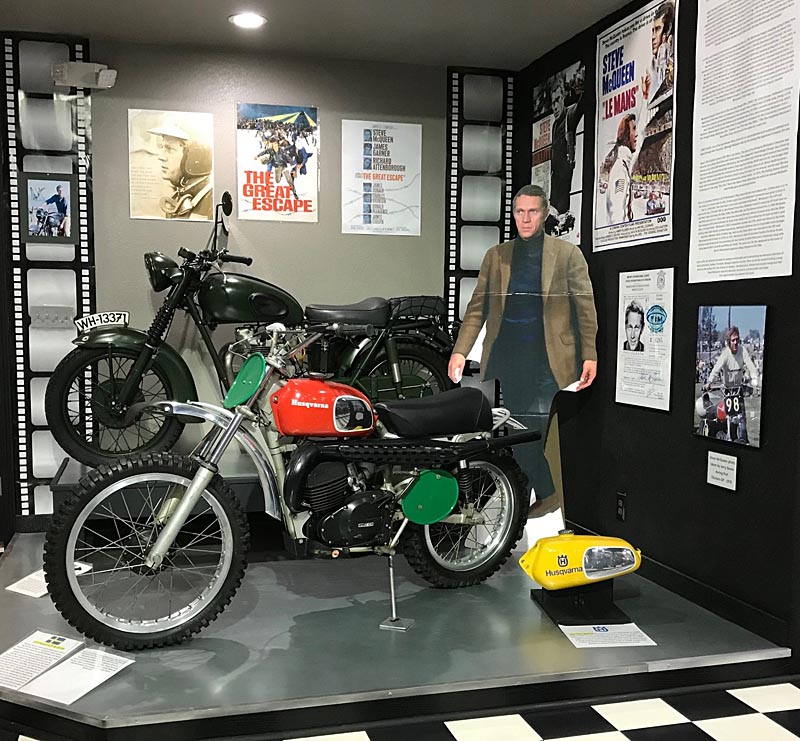 Terrence Stephen McQueen was born in Beech Grove, Indiana, a suburb of Indianapolis. His father, William McQueen (1907-1958) was a stunt pilot for a barnstorming flying circus. Steve was dyslexic and partially deaf due to a childhood ear infection. McQueen was raised by his grandparents and great uncle who on his fourth birthday gave him a red tricycle – a gift that McQueen subsequently credited with sparking his early interest in racing.
After leaving home at an early age, Steve worked on a ship, in a brothel, as a roughneck, carnival barker and a lumberjack. In 1947 McQueen joined the United States Marine Corps where he was promoted to private first class and assigned to an armored unit. He initially reverted to his prior rebelliousness and was demoted to private seven times. He took an unauthorized absence by failing to return after a weekend pass expired, staying with a girlfriend for two weeks until the shore patrol caught him. He resisted arrest and spent 41 days in the brig. After this he resolved to focus his energies on self-improvement and embraced the Marines' discipline. He saved the lives of five other Marines during an Arctic exercise, pulling them from a tank before it broke through ice into the sea. He was assigned to the honor guard, responsible for guarding the presidential yacht of US President Harry Truman. McQueen served until 1950, when he was honorably discharged.
In 1952, with financial assistance provided by the G.I. Bill, McQueen began studying acting in New York. McQueen began to earn money by competing in weekend motorcycle races at Long Island City Raceway and purchased the first of many motorcycles, a Harley-Davidson and Triumph. He soon became an excellent racer, and went home each weekend with about $100 in winnings. In late 1955, at the age of 25, McQueen left New York and headed for California, seeking acting jobs in Hollywood. McQueen's first breakout role came on television when he appeared in the western series, Tales of Wells Fargo. At 29, McQueen got a significant break when Frank Sinatra removed Sammy Davis, Jr., from the film Never So Few after Davis supposedly made some mildly negative remarks about Sinatra in a radio interview, and Davis' role went to McQueen. Sinatra saw something special in McQueen and ensured that the young actor got plenty of closeups in a role that earned McQueen favorable reviews. After Never So Few, the film's director John Sturges cast McQueen in his next movie, promising to "give him the camera". The Magnificent Seven (1960), in which he played Vin Tanner and co-starred with Yul Brynner, Eli Wallach, Robert Vaughn, Charles Bronson, and James Coburn, became McQueen's first major hit.
McQueen played a lead role in the next big Sturges film, 1963's The Great Escape, Hollywood's fictional depiction of the true story of a historical mass escape from a World War II POW camp, Stalag Luft III. Insurance concerns prevented McQueen from performing the film's notable motorcycle leap, which was done by his friend and fellow cycle enthusiast Bud Ekins, who resembled McQueen from a distance. When Johnny Carson later tried to congratulate McQueen for the jump during a broadcast of The Tonight Show, McQueen said, "It wasn't me. That was Bud Ekins." This film established McQueen's box-office clout and secured his status as a superstar.
1968's Bullitt, one of his best-known films, featured an unprecedented (and endlessly imitated) auto chase through San Francisco. Although McQueen did do the driving that appeared in closeup, this was about 10% of what is seen in the film's car chase. The rest of the driving by McQueen's character was done by stunt drivers Bud Ekins and Loren Janes. The antagonist's black Dodge Charger was driven by veteran stunt driver Bill Hickman; McQueen, his stunt drivers and Hickman spent several days before the scene was shot practicing high-speed, close quarters driving. Bullitt went so far over budget that Warner Brothers cancelled the contract on the rest of his films, seven in all. When Bullitt became a huge box-office success, Warner Brothers tried to woo him back, but he refused, and his next film was made with an independent studio and released by United Artists. In 1973, The Rolling Stones referred to McQueen in the song "Star Star" from the album Goats Head Soup for which an amused McQueen reportedly gave personal permission.
There is a common theme in all of McQueen's films that tells you much about him –If there was a car to be driven, or a motorcycle to ride, it was a good bet that McQueen's character was going to drive or ride it – really fast. The man was a true and committed motorhead. McQueen's first off-road motorcycle was a Triumph 500 cc, purchased from Ekins. McQueen raced in many top off-road races on the West Coast, including the Baja 1000, the Mint 400, and the Elsinore Grand Prix. In 1964 McQueen and Ekins were part of a four-rider (plus one reserve) first-ever official US team-entry into the Silver Vase category of the International Six Days Trial, riding a mix of modified for off-road use 649 cc and 490 cc Triumph Twins. McQueen's ISDT competition number was 278, which was based on the trials starting order. Both teams crashed repeatedly. Steve McQueen withdrew due to irreparable crash damage, and Ekins withdrew with a broken leg, both on day three. Steve was inducted in the Off-road Motorsports Hall of Fame in 1978. In 1971, McQueen's Solar Productions funded the Bruce Brown directed classic motorcycle documentary On Any Sunday, in which McQueen is featured, along with racing legends Mert Lawwill and Malcolm Smith. The same year, he also appeared on the cover of Sports Illustrated magazine riding a Husqvarna dirt bike.
Later in life, his interests focused on antique motorcycles and accumulating an extensive collection of Harley-Davidson, Indian, Triumph, Brough-Superior and Ace. Steve would be spotted trolling a swap meet on the lookout for rare Indian or Harley – Davidson parts. Motorcycle people recognized that Steve McQueen was the absolute real deal as a motorcyclist and today that appreciation has reached cult levels.